You have to go through some dumb 💩 to post a podcast. Transducer's a Mac app that makes uploading and publishing your podcast a lot easier.
With Transducer, here's what my workflow looks like:
Choose the audio file I want to post
Choose the podcast I'm posting
Set the episode's title and description
Choose where I want to host the file (Libsyn or SoundCloud)
Click upload
(Bonus: Transducer also lets you run custom scripts—I use this to automatically create a new entry in my podcast's RSS feed.)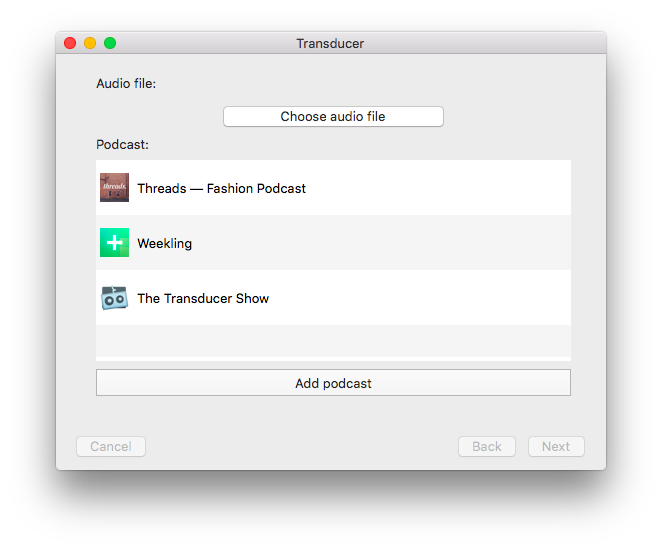 Ever had a nerd email you about missing MP3 ID3 tags? (Don't know what those acronyms are?) Get those metadata weirdos off your back—Transducer handles it all for you.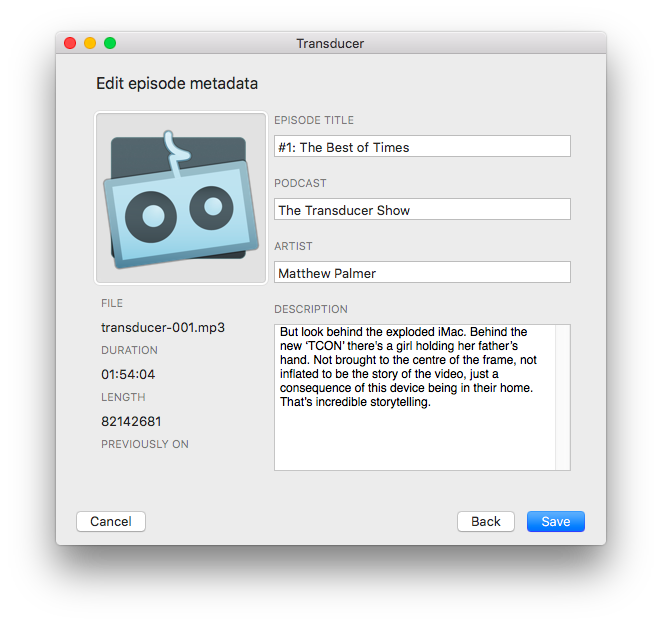 A bunch of other small points to convince you to try out the app:
Run custom scripts after your show's uploaded, like automatically creating a new Wordpress post or RSS feed entry for the episode
Transducer works with any existing SoundCloud or Libsyn account, so you don't need to migrate your show
Works with MP3 files
All the info you need for your RSS feed is right there, ready to be copy-and-pasted
Hate when you forget the episode number when you go to write the title? Transducer shows you what last week's episode was, so you'll never forget again